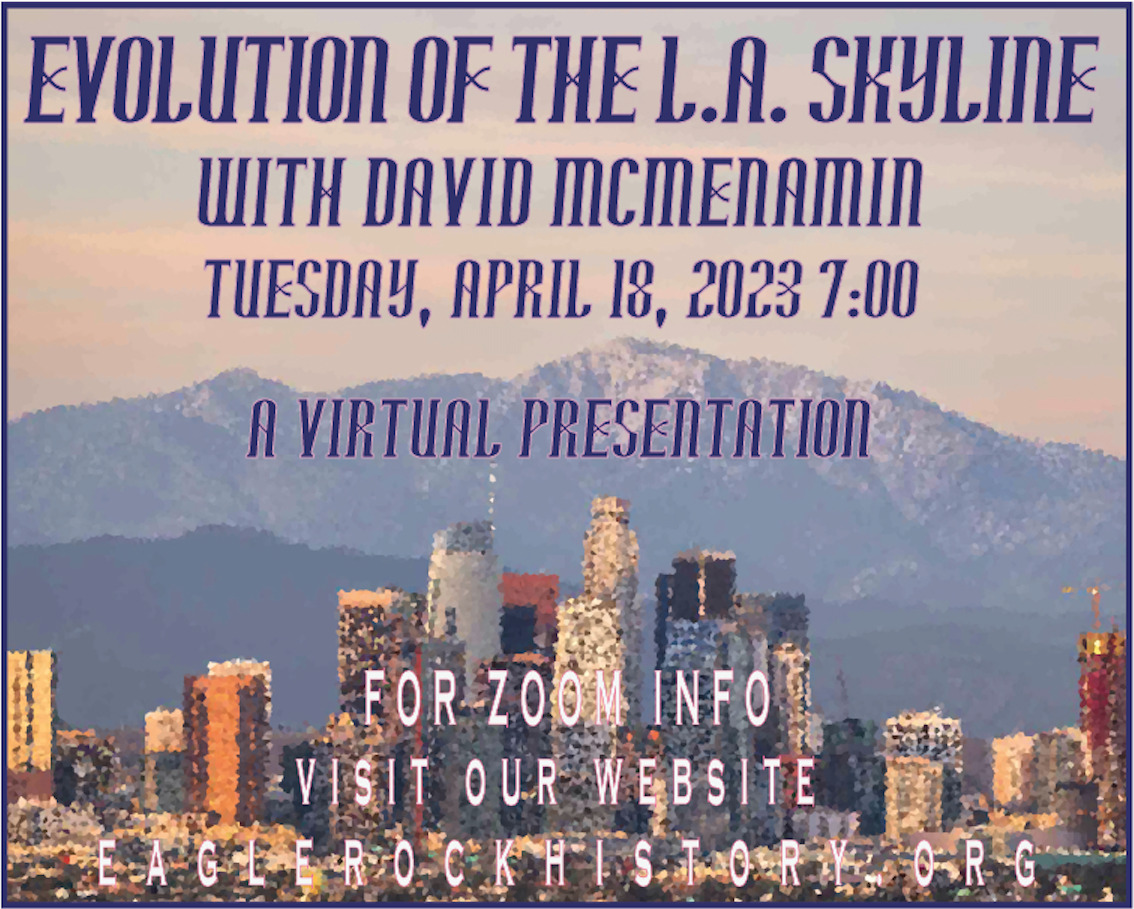 Evolution of the Los Angeles Skyline, with David McMenamin (ERHS S'65, Occidental College '69)
Have you ever wondered why Los Angeles did not have any buildings taller than the City Hall until the late 1960s, or why, until recently, LA skyscrapers had flat tops, or why downtown LA now has an "old" financial district and a "new" financial district? David will answer these and other questions covering major events that influenced the development of the LA skyline since the founding of Los Angeles in 1781.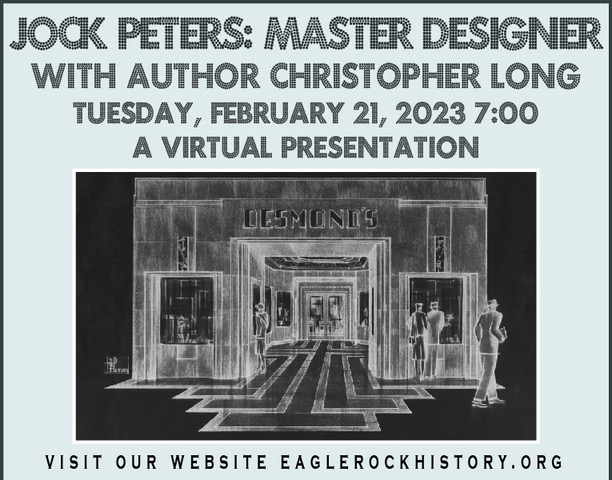 Passcode: 403420
Presentation by renowned Martin S. Kermacy Centennial Professor, Mr. Christopher Long from the School of Architecture, University of Texas at Austin. Professor Long will be discussing the life and career of one of the pioneers of modernism in Southern California: Jock Peters.
THE STORIES OF L.A. ALL DAY. ALL IN ONE PLACE.
The L.A. AS SUBJECT consortium, of which Eagle Rock Valley Historical Society is a member, brings to life the diverse, often hidden stories that make Southern California such a fascinating place of discovery. The annual LOS ANGELES ARCHIVES BAZAAR, which is free and open to the public, offers a one-stop opportunity to interact with dozens of archives, from large institutions to private collectors. Stop by the Eagle Rock Valley Historical Society table on your way to free workshops and discussions
Note: While the event is free, parking is not.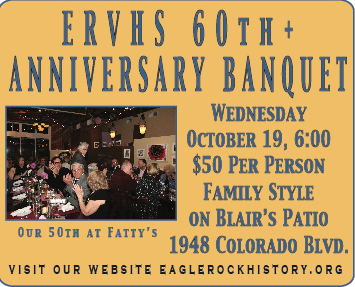 Come celebrate the 61 years of the Eagle Rock Valley Historical Society.

PLEASE R.S.V.P. TO
WEBMASTER@EAGLEROCKHISTORY.ORG
by Monday October 17th
to secure your spot at the table
with your name(s) and number in your party
PLEASE PAY EITHER:
via PayPal to k8ttaylor@gmail.com
OR
by exact change and/or check at Blair's the night of the party! ($50 cash or check made out to ERVHS)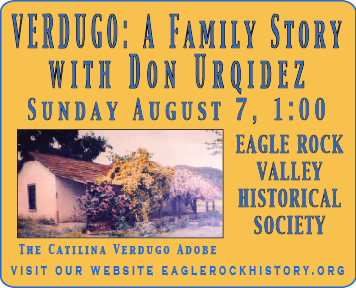 JOIN US on Sunday August 7th at 1pm when we welcome Don as our virtual presenter in lieu of our Ice Cream Social; again postponed due to the Covid closure of the Center for the Arts and our concerns for our extended family. This will be a fascinating exploration of the Verdugo family's history and continuing legacy in Southern California. Feel free to attend the virtual presentation with your own bowl or cone of ice cream to enjoy as we all listen to the presentation together!
Meeting Recording:
https://occidental.zoom.us/rec/share/QW1eSfSoEu8lG332KrTm_IWekZnH7VCkt-3_9s8JVGwnjywyWwsZY0Jo8V7d39j4.cR_BeXSLw3GY_-sf
Access Passcode: 02*l4D&F
We will take a Zoom tour along Colorado Boulevard and look into the auto facilities past and present along the route.
Although Eagle Rock's development was made possible by the construction of the L.A. Railway in 1906, our long romance with the automobile began soon after. Beginning as a rich man's plaything, the car increasingly became an everyday desire and necessity for life in far-flung Los Angeles. The privacy and convenience of the personal car overshadowed and eventually totally replaced the extensive local and interurban rail networks that made Los Angeles' development possible.
Countering this concentration of auto services was the desire by many to re-emphasize the hometown services provided by the Boulevard. Efforts were made to encourage pedestrian oriented businesses. The revitalization of the Boulevard occurred but paradoxically, the primary means of access to these businesses continued to be the private car. Fuel and mechanical services thus remained a vital part of the urban mix.
Our tour guide: Eric Warren
California history, especially that of its other regions, is much older, and features a more diverse cast of protagonists, than just about any other part of the United States. Attend our meeting and hear Brian Dervin Dillon discuss early California.
Zoom Meeting with Brian Dervin Dillon
Meeting ID: 894 3051 0378
Passcode: 15421900
Meeting ID: 874 8555 3802
Passcode: 196110
60 Years of Collecting & Protecting! Happy Anniversary to Us!
This is an important moment to pause and celebrate the accomplishments of our organization and to take a look at how we got here. Eric Warren, our current Vice President and author of several books on the history of the area, will present a visual history of the Eagle Rock Valley Historical Society.
Who was at the heart of our institutional origins?
Who were the early movers and shakers of the community who made it all come to fruition?
What were the ups and downs of the Society's past and was there a moment when all felt lost?
Your questions need answers and all will get covered in this meeting!
What exactly is an asylum and/or a sanatorium? And a feminist one at that? What does that mean exactly? Where the heck is Rockhaven? Let's get it all straightened out together!
Zoom link
Meeting ID: 880 7808 0226
Passcode: 90041